It's a material that's strong, beautiful, unique – and millions of years old. Clare Dowdy explores the unstoppable rise of stone in design and architecture.
A
A material as old as the hills is back in fashion. Designers and architects are rediscovering the delights of stone, whether it's as a table-top feature or an entire building structure.?Other materials – steel and concrete for construction, plastic for products – may be cheaper and faster to work with, but stone has some impressive sustainability credentials. Its carbon footprint is relatively small – and it lasts forever.
More like this:
-??????? What you didn't know about colour
-??????? The floral fabric that was banned
-??????? Is the future flat-packed?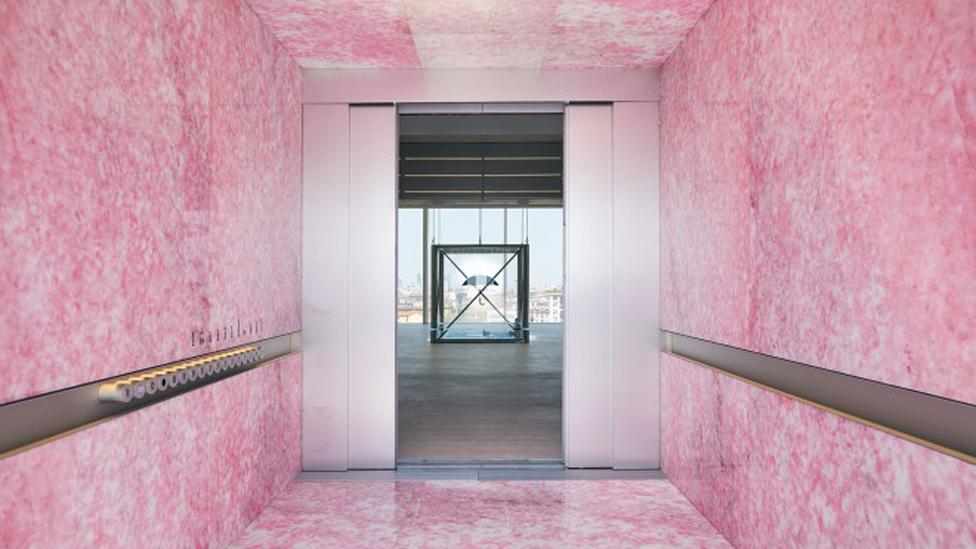 The shiny pink lift at the Prada Foundation in Venice was created by SolidNature using a dyed block of onyx (Credit: Marco Guastalla)
The 2017 London apartment block 15 Clerkenwell Close proves this first point. With its stone structure and limestone fa?ade, its embodied carbon was reduced by 90百分比, compared to comparable buildings with steel or concrete frames.
The building features in The New Stone Age, an exhibition (currently closed) of contemporary stone architecture at London's Building Centre. The show is curated by the creators of 15 Clerkenwell Close: architect Amin Taha of Group Work, engineer Steve Webb of Webb Yates and stone mason Pierre Bidaud.
Stone was still popular as a building material until the turn of the 20th Century. But after World War Two, Taha tells BBC Designed, "it was seen as something of the past. Modernism was about concrete, steel and glass."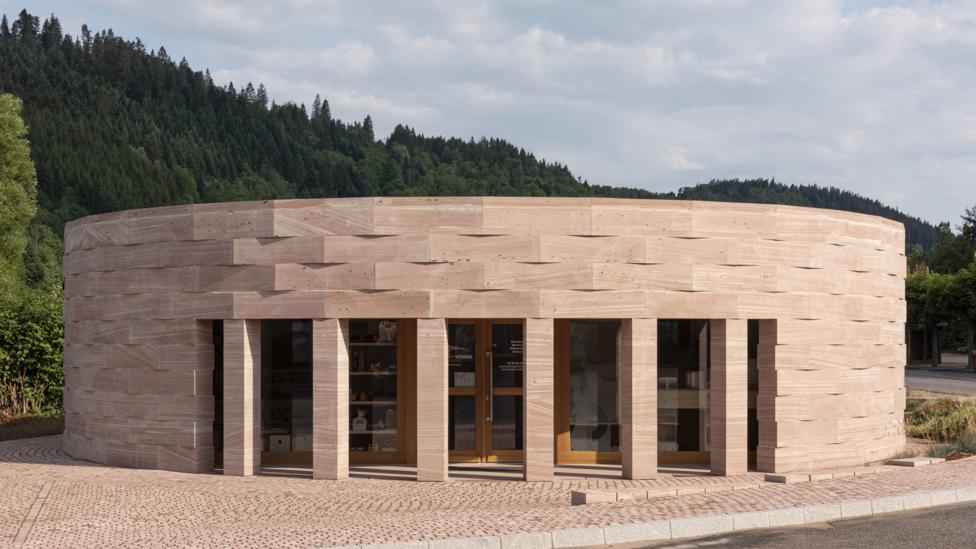 The tourist office in the French town of Plainfaing was designed by Studiolada, and created entirely in stone (Credit: Ludmilla Cerveny)
Stone has been used for cladding since then, but "we're trying to show the technological possibilities of the structural use of stone," says Webb. Projects featured alongside 15 Clerkenwell Close include an office building in Santiago de Compostela, Spain, by Ensamble Studio, and Studiolada's tourist office in the French town of Plainfaing.
Stone's architectural image is being bolstered by new software technology, innovations in manufacturing and a greater understanding of quarrying.
These developments can also help stone make a splash inside buildings. The upshot is a basement swimming pool of back-lit golden onyx, and a shiny pink public lift. These have both been realised by Dutch stone company Solid Nature – the former in the Netherlands, the latter at the Fondazione Prada in Venice using a dyed block of onyx.
People increasingly want the authentic beauty and inconsistencies of natural stone – David Mahyari
Alongside its sustainable qualities, it's the material's one-off nature that really appeals to the design world. "People increasingly want the authentic beauty and inconsistencies of natural stone," says Solid Nature's David Mahyari, "imitation ceramic tiles include realistic veins but have a repeat pattern like wallpapers, so you can tell quickly that they're fake."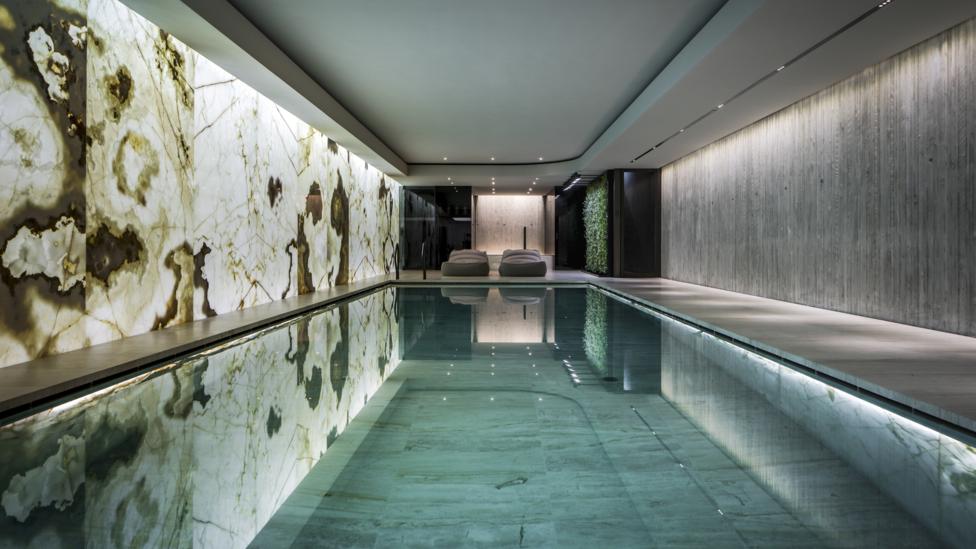 Dutch design company SolidNature's basement swimming pool, created with back-lit golden onyx (Credit: SolidNature)
Curator Guta Moura Guedes in Portugal echoes this. "Each piece, even if you produce thousands of the same model, is always unique. This provides an added value to objects and projects in general."
Its age is also a factor. "Stone is a material that is millions of years old. Can you imagine this? I am completely convinced that this dimension also changes the way we relate to a stone object, establishing a different kind of connection with it and making it, somehow, more precious."
London-based stone carver Simon Smith backs this up: "If the stone 'takes a polish', it's like opening the door of the stone and seeing deep into it, and millions of years back in time."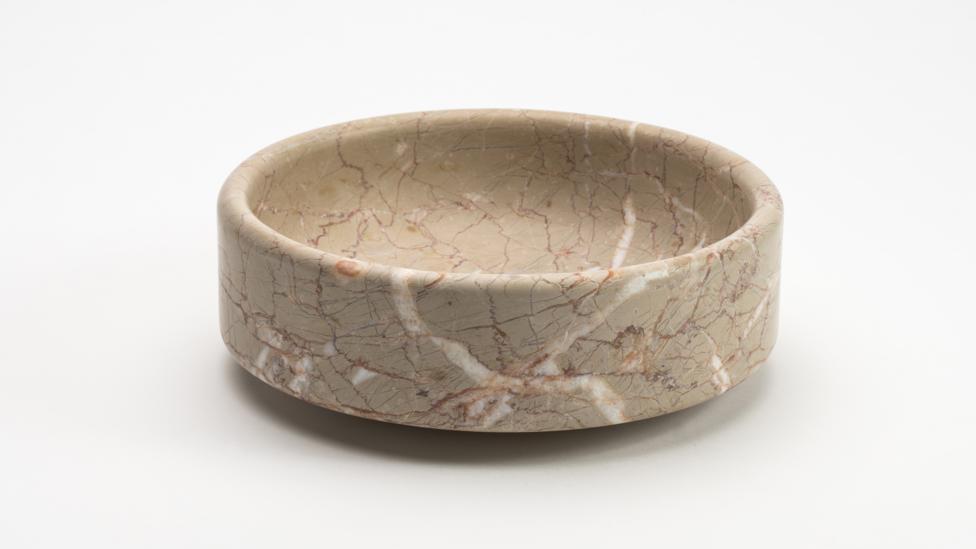 Stone has an authenticity and uniqueness about it – pictured, Alpinina bowl by Jasper Morrison for Experimentadesign (Credit: Nuno Sousa Dias)
Through the organisation Experimentadesign, Guedes challenged seven designers to experiment with Portuguese stone. Hence Jasper Morrison's bowl, whose elevated and recessed base creates a space and belies its weight; a plate in two types of stone by Michael Anastassiades; Fernando and Humberto Campana's rings, described as a dialogue between the coldness and hardness of the Branco Vigária and Ruivina Escuro marble, and the warmth and flexibility of Brazilian coconut fibre; and Ronan and Erwan Bouroullec's water feature in pale pink marble.
Solid as a rock
More and more designers are exploring the potential of stone. Norwegian Runa Klock uses the stone Larvikite for Core, a small table lamp. And Parisian Martin Massé's Orsetto range of curved sculptural tables is carved from solid Navona travertine from Italy. "I draw a lot of inspiration from ancient Roman architecture, which used stone a lot," says Massé, who is also keen to help preserve the historical know-how of French stonemasons.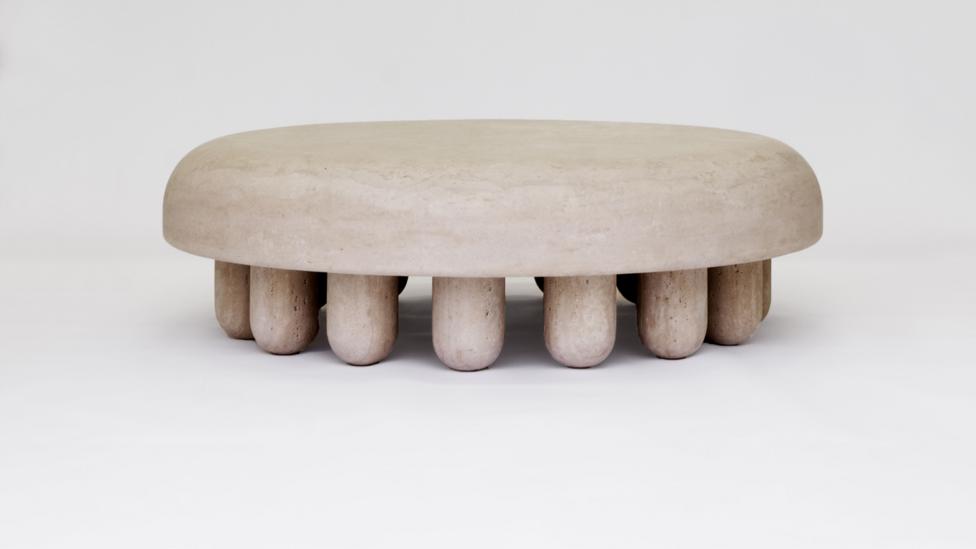 Martin Massé's Orsetto range of sculptural tables is inspired by Roman architecture (Credit: Martin Martin Massé)
Even some traditional stone carvers are rethinking their material's capabilities. Smith is the carver behind the new statue in Portland stone of Sir Hans Sloane, the founder of the British Museum, which stands in Chelsea Physic Garden. He's now turned his efforts to domestic, decorative creations that could go above the mantelpiece in place of an oil painting.
Not every designer using stone is a purist. London-based New Zealander Phil Cuttance works in Jesmonite – ground-up stone mixed with an acrylic resin. "If Jesmonite didn't exist, I wouldn't work in stone," he says, because "if you make a wrong move it's ruined. Stone is beautiful, ancient, and precious." Instead, he makes "smaller things for more people", such as his series of herringbone-patterned vases and pleated mirror frames.
Once out of the mould, Cuttance etches it. "When people look at my objects, they assume they're made by a computer router or 3D printer because of the complex geometry and sharp lines. When they get up close, they see they're hand-crafted, and have come out of very low-fi process." He's now following up these pieces with a range of lighting.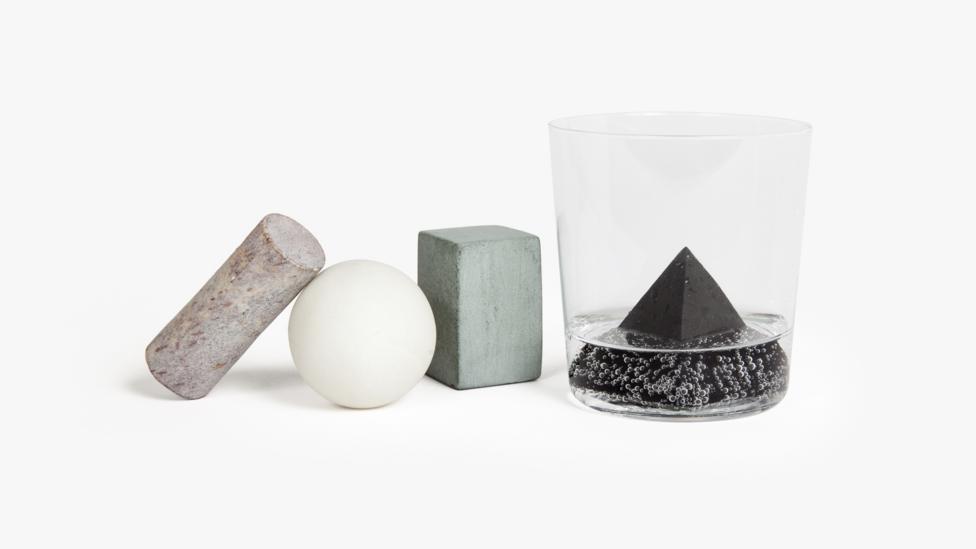 Runa Klock's Rocks are designed to keep drinks chilled (Credit: Runa Klock)
While designers and architects keep pushing the boundaries by combining new technologies with manual techniques, stone is likely to play a bigger role both inside and outside the house. And the results will be even more unexpected. Like designer Klock's Rocks, created to be "admired in your evening cocktail", she says. Made of geometrically carved soapstone, which is non-porous, odourless and tasteless, each Rock keeps its temperature for a long time. After a spell in the freezer the Rock can chill a drink, without diluting it like an ice cube.
While stone may be heading back into the limelight, its ubiquity and durability mean it had never really gone away. Danish architect J?rn Utzon is best known for his futuristic Sydney Opera House, which was built of pre-cast concrete. But in 1972 he followed that up with his own house on Mallorca. Called Can Lis, it has Marés sandstone for its outer walls and columns, and Santanyi sandstone on the floor, interior walls and kitchen worktops.
Each slab of stone is unique in Ensable Studio's office building in Santiago de Compostela, Spain (Credit: Roland Halbe)
Meanwhile back at London's Building Centre, the exhibition "shows that there's a movement of different people doing different things", says co-curator Webb, "and international interest is growing".
If you would like to comment on this story or anything else you have seen on BBC Culture, head over to our?Facebook?page or message us on?Twitter.
And if you liked this story,?sign up for the weekly bbc.com features newsletter, called The Essential List, a handpicked selection of stories from BBC Future, Culture, Worklife and Travel, delivered to your inbox every Friday.