Indonesia is home to vast peatlands that have been widely degraded to grow crops, such as oil palm. Can 'green Islam' help to restore the country's peat to its former glory?
E
Every Thursday night, the men of Tanjung Makmur village on the Indonesian island of Sumatra gather in the mosque for sunset prayers. Afterwards, they sit together to recite Surah Yasin, the 36th chapter of the Koran, which they believe sends prayers to the dead. But on one December evening in 2019, in the ritual took an unexpected turn.
Mustangin, a local cleric, closed the prayers for the dead with a discussion of a religious edict against environmental destruction. This time was usually reserved for reciting the surah in Arabic, without discussing its meaning. But that evening, Mustangin saw fit to overturn the usual tradition. ?
The village of Tanjung Makmur is found in South Sumatra's vast peatlands, much of which have been cleared of the trees that naturally cover them and drained so they can be used for plantations and farming. These deforested regions have acidic, nutrient-poor soil. Many choose to burn the land before planting crops, which can improve its fertility.
But restoring peatland, rather than burning it, is currently one of Indonesia's priorities to reduce its annual carbon emissions. Worldwide, peatlands in their natural waterlogged state can sequester 0.37 Gigatonnes of carbon dioxide (CO2) every year, as the organic matter that falls into them can't rot as they are not exposed to the air. But, if drained and dried, the stored organic carbon begins break down and is released as carbon dioxide.
Peatland that has been degraded in this way is also vulnerable to wildfires, which release vast quantities of carbon into the atmosphere. Overall, degraded peat is responsible for an estimated 5百分比 of anthropogenic greenhouse gas emissions globally each year.
In Tanjung Makmur, Mustangin saw evening prayers as a way of starting a conversation about the issue with the villagers. Local practices of clearing land through burning can spark Indonesia's infamous wildfires. "I told them that it is haram [forbidden] for us as Muslims to burn the land," Mustangin says.
You might also like:
Mustangin had been given training as part of an initiative from the country's highest Islamic authority, the Indonesian Ulema Council (MUI). Working with Indonesia's Peatland Restoration Agency (BRG) and the Center of Islamic Studies in National University (UNAS) since 2018, they have trained hundreds of local clerics to promote peatland restoration in communities in Sumatra and Kalimantan, home to majority Muslim populations.
"Wherever we travel to villages in rural areas, we would find that religious figures play a crucial role in social life," says Fachruddin Mangunjaya, senior conservationist at UNAS. The hope was that environmental fatwas issued by the MUI, and promoted by local clerics and mosque activists, would be an effective way to encourage peatland restoration.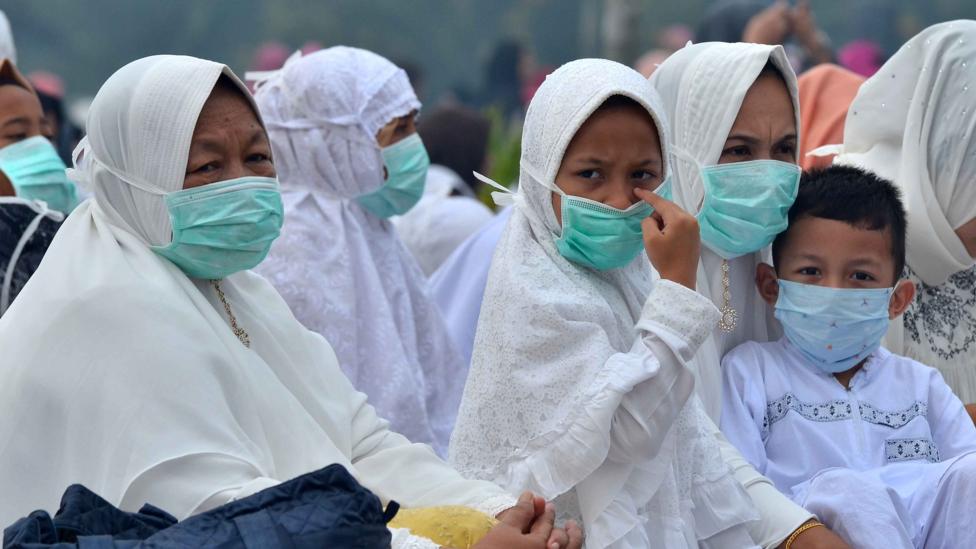 Wildfires in Indonesia create a toxic haze that can spread across South-east Asia, posing a major public health risk (Credit: Getty Images)
Estimates of how much carbon is locked up in Indonesia's peat vary, ranging from 13.6-40.5 Gigatonnes (Gt) of carbon, with a best estimate of around 28.1Gt. This suggests Indonesia holds 37百分比 of the world's peatland carbon stores. Indonesia has around 15 million hectares (ha) of peatlands and nearly half of these areas are already degraded. In 2016, the BRG was established with the intention of restoring 2.5 million ha of degraded peatlands by 2020. Due to limited resources, the agency had to reign in its goal to 900,000 ha of land, says Nazir Foead, the head of BRG.
Another 1.7 million ha of the restoration target are under concession by oil palm and pulpwood companies, says Foead, under the supervision of the Ministry of Forestry and Environmental Affairs. In non-concession areas, nearly 780,000 ha of the 900,000-ha goal had been restored by the end of 2019.
"This is because we have collaborated with the people in rural areas," says Foead. In the past four years, BRG has worked with 366 villages in Sumatra and Kalimantan to rewet the dried peatlands and replant them with local trees. Religion was key to engaging the village communities, he says. "Therefore, we asked their religious figures to raise awareness and determination to protect and restore the peatlands," says Foead.
This was the spark for discussions like those in Tanjung Makmur at evening prayers. In his sermon, Mustangin cited a fatwa – a non-legally binding opinion – that had been released by the MUI in 2016. The fatwa stated that it was a sin to facilitate or derive benefits from setting fire to the land.
"When we burn the land, we are not only burning the trees but also small animals that we see and we can't see," says Mustangin. "These creatures are all among God's worshippers."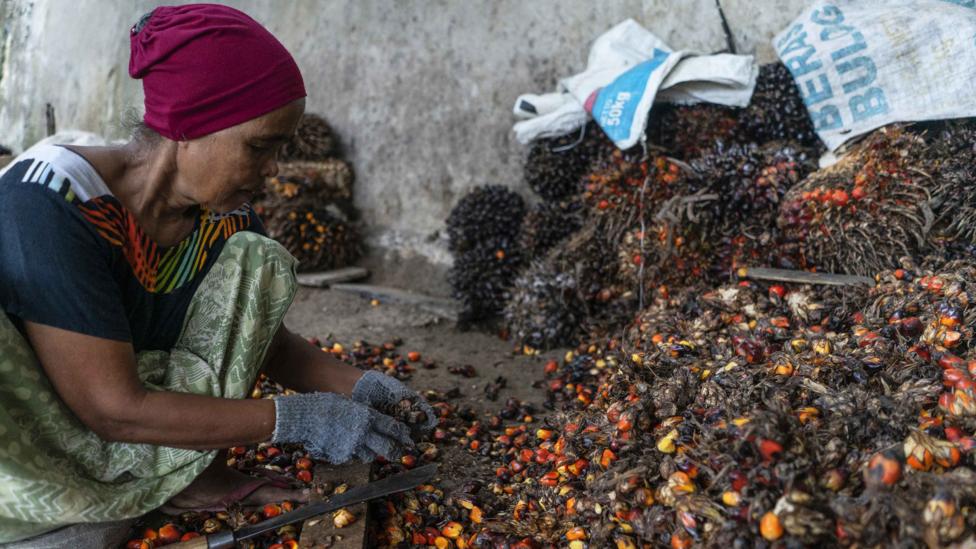 Palm oil plantations are often planted on degraded peatlands, where drainage of the waterlogged land leads to high carbon emissions (Credit: Getty Images)
A 2013 study found that Muslim clerics who incorporated conservation messages into sermons raised public awareness and concern for those issues. In some senses, the religion embodies environmentalism, says Jeanne Mckay, senior researcher at Durrell Institute of Conservation and Ecology at the University of Kent who led the study.
"Religions and spiritual beliefs have a great potential for conservation," she says.
Concepts such as the principle of Khalifah urge Muslims to be stewards of the Earth, while the concept of Mizan describes "a balance system" in natural world, with Muslims encouraged to preserve the balance and not disturb it. McKay's study found that these principles may not be generally known, but introducing them to religious sermons is effective – particularly among female worshippers.
Hayu Prabowo, the head of Natural Resources Division at the MUI, has been trying to promote these ideas of Islamic environmentalism since 2010. In that time the MUI has released six fatwas on environmental affairs, such as water management, protection of endangered animals and, most recently, land burning.
The MUI has also introduced a concept of EcoMasjid – an environmentally friendly mosque that is managed in the spirit of Islamic environmentalism. A typical EcoMasjid usually has a sustainable water management system (water is essential because it is used to purify the body before prayer) and the sermon usually combines scientific explanation and Koranic verses to promote conservation and environmental protection.
Prabowo says that the public response has been "extraordinary". So far, more than 100 mosques have been registered as EcoMasjids in Indonesia, he says. More widely, "Green Islam" is becoming a trend, especially in Java, writes Kristina Grossman, a comparative development researcher at the University of Passau, Germany.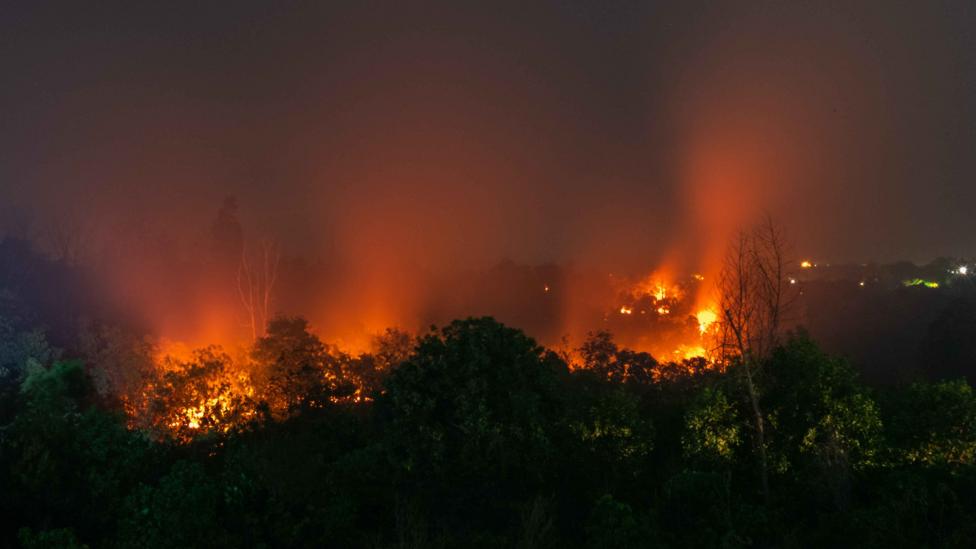 Forest fires in Indonesia have been fuelled by widespread drainage and drying of peatland swamps (Credit: Getty Images)
As for the fatwas, studies led by Fachruddin Mangunjaya at UNAS in Jakarta, have shown that they have helped governments and international NGOs in promoting some of their conservation work. For example, a fatwa on the protection of endangered animals has increased awareness among the villagers who live around the primary habitat of Javan rhinoceros in Ujung Kulon as well as Sumatran tigers in West Sumatra, says Mangunjaya.
"Before the existence of this fatwa, there was no straightforward explanation on why animals had to be preserved and why Muslims were encouraged to protect them," he says.
In an ongoing study, Mangunjaya says that he has found evidence that the land-burning fatwa and the training of local clerics has increased local awareness in the BRG's restoration target areas in Riau. "Before the clerics introduced the concept of peatland restoration, many of the villagers had not known that they lived on peatlands for decades," he says.
But Mangunjaya notes that behavioural change is not an instant result. It's a challenge that Mustangin and other clerics have to face first-hand.
"There's always scepticism coming from the people," says Mustangin. Some of his neighbours told him that it's too late to preach about peatland restoration because the smoke from burning had already turned the sky of Sumatra red.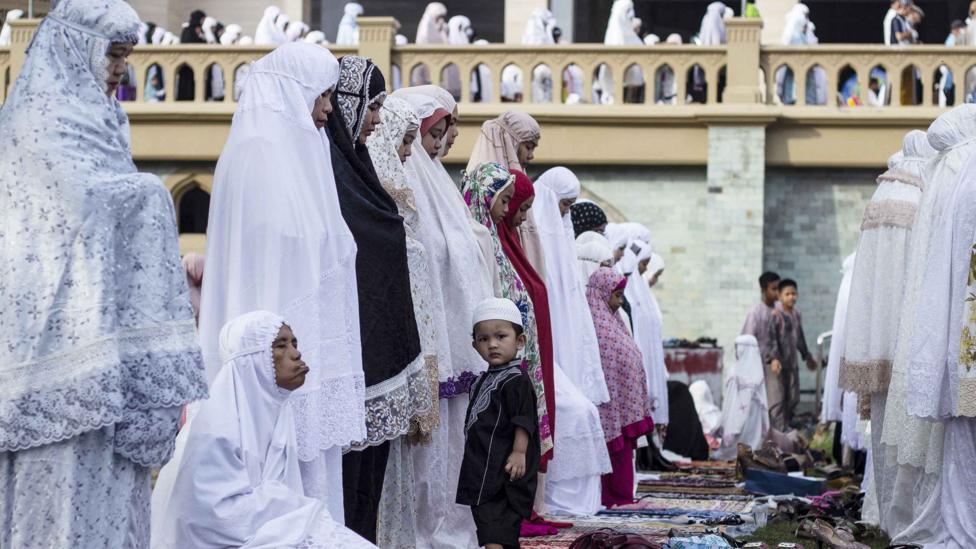 In a country of 255 million Muslims, religious services are a powerful way to raise awareness of environmental issues (Credit: Getty Images)
Nur Azmi, a local cleric in Padekik village in Riau, on Sumatra, also deals with scepticism when he preaches about peatland restoration. "They think we won't have fertile soil if we don't burn it," he says. But Azmi is hoping to inspire his community by proving that it is possible to farm on peatlands without setting fires.
While the practice of burning has officially been banned since 2014, Murniati, a researcher at Center for Research and Forest and Development in the Ministry of Forestry, found in 2016 that burning the land was still widespread among growers in in Siak, Riau. "They are actually afraid of burning the land, but they don't have money to fund non-fire techniques," Murniati says.
One alternative to burning is to rent an excavator for clearing shrubs, for which a farmer needs to pay 20 million rupiah (?1,080) per hectare. Another alternative is to do it by hand and using herbicides, for which they need at least 1.8 million rupiah (?98) per hectare.
But Azmi says manual clearance is worth it. "The haze tragedy in 2015 was so bad. Children were sick and died because of the smoke. And I don't want to contribute to the disaster," he says. He also uses an organic fertiliser to boost the soil's nutrition. "I mix pineapples, terasi (fermented shrimps), ginger, and other ingredients to make the fertiliser," he says. All these would cost 30,000 rupiah (?1.60) which could be used for 5 to 6 ha of land. "Alhamdulillah (thanks to God), the tomatoes and watermelons which I planted are good quality," he says.
When he is not farming, Azmi preaches at many occasions – not only to men in the mosques, but also to local women's association and to school children. At least 30 people have joined him to promote farming without burning method, he says.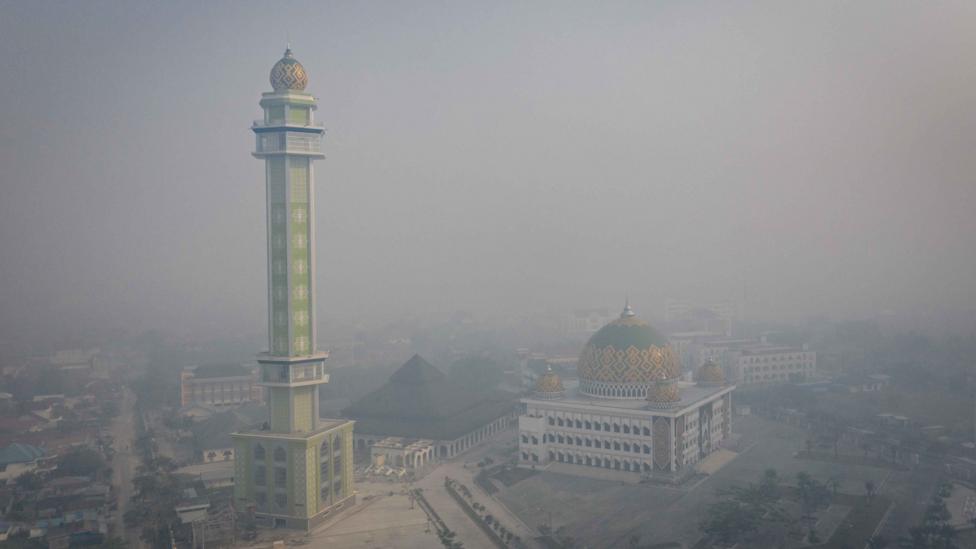 Toxic smog spreads throughout the country during wildfires, and can broach neighbouring Malaysia and Singapore (Credit: Getty Images)
Herry Purnomo, a researcher at Indonesia's Center for International Forestry Research, says that the Islamic approach is innovative, but he has reservations that religious lectures will be enough. "There are always challenges in the fields that make it difficult for farmers to keep on the track," he says. Purnomo cites a story of farmers who had worked hard to clear the land manually, and planted it with gaharu (agarwood). Just before the harvest time, a wild boar came and ate the fruits along with the young trees' bark. "This is when our faith is tested. Are we going to give up?" he says.
Another consideration, says Purnomo, is that it is not only poor and smallholder farmers that need to change. His research found that there were more fire hotspots in the run up to local elections. "Local elections involve land transactions, and fires were used as a cheap way to increase land value," he says. Engaging local elites and politicians could do more good than working with individual farmers, says Purnomo. In addition, it is not just small-scale farmers that set fires – large plantations have been accused of engaging in the practice too.
Mangunjaya agrees that peatland restoration is a very complex issue and he can't guarantee that a fatwa, preached by local clerics like Mustangin or Azmi, would influence local politicians. "But their persistency in spreading Islamic environmentalism has a great potential to help the government achieve the restoration target," he says.
And the results, so far, appear to be positive. In 2019's fires, 1.6 million hectares of land burned, but no signs of fire were found at 65百分比 of the villages which BRG had worked with. In some restoration areas where there were fires, they were more controllable. "[In the past] we needed at least two months to fight the fires. But last year, the fires ended just in two days," says Azmi.
As the dry season approaches, which runs from April to October, it is an effort that clerics hope to continue to abate the fires. "Whenever there is a meeting in the village office, I always speak up and ask the village head and the audience to manage degraded lands," says Mustangin. "I will never get bored of reminding them. We have to protect God's creation."
--
The emissions from travel it took to report this story were 0kg CO2: the writer interviewed sources remotely. The digital emissions from this story are an estimated 1.2g to 3.6g CO2 per page view. Find out more about how we calculated this figure here.
--
Join one million Future fans by liking us on?Facebook, or follow us on?Twitter?or?Instagram.
If you liked this story,?sign up for the weekly bbc.com features newsletter, called "The Essential List". A handpicked selection of stories from BBC Future, Culture, Worklife, and Travel, delivered to your inbox every Friday.